Interested In Bicycle Racing?
Talk to our Club
Officers, or for more
information call:

(516) 628-2590
from 8:00 to 10:00 pm
EST, 7 days,
or write to:

Bill Bauer
298 Bayville Avenue
Bayville, N.Y. 11709

Check out these links:
Sean Kelly's Web Site

USA Cycling
We are hosted by, Bicycle Long Island.
Long Island's Regional Bicycling Resource.
GBSC/Bialostok Chiropractic/Carl Hart Cycling Team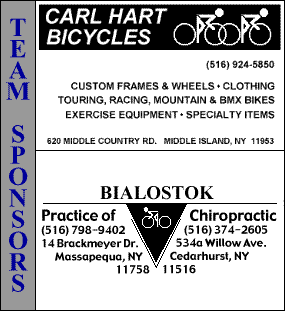 The G.B.S.C. Bicycle Racing Team has been in existence for over 75 years. We are one of the oldest bicycle racing clubs on the East Coast. The Club is always looking for new prospects. Founded in 1927 as the German Bicycle Sports Club our membership is now comprised of riders from many ethnic and racial backgrounds. We welcome anyone seriously interested in bicycle racing. The G.B.S.C. Bicycle Racing Team has a staff of many experienced riders to help novices in the sport.
Training rides are held every Saturday and Sunday from the Little Neck Parkway Triangle, (South Side of the Long Island Expressway at Little Neck Parkway - Exit 32). Rides leave promptly at 8:30 am.
You can also join this ride in progress at "Steel Hill", (L.I.E. and Post Avenue at about 8:55 AM) or at the L.I.E. Service Rd. and Woodbury Road at about 9:05 AM.
Mon., Wed., & Fri., with the Massapequa Park Bicycle Club at the Bethpage Library Parking Lot - 8:30 AM at Powells Ave.
The average pace runs between 20mph and 23mph for 35 miles minimum. The course can be hilly. If you come to these rides you are expected to know you can handle it. There is no waiting for stragglers, flats or mechanical problems. These rides are an A, AA or faster pace.