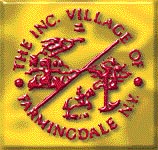 From the FARMINGDALE VILLAGE REPORT
Spring 1999
THE WAY IT WAS
William J. Johnston Village Historian
MILE-A-MINUTE MURPHY
Friday, June 30, 1899 was a clear but cool early summer day, perfect. for a bicycle ride. Charles M. Murphy went for a ride on his Tribune "Blue Streak" bike that afternoon. When he was finished, Murphy had set a world speed record, and Farmingdale and the Long Island Rail Road were front-page news around the nation.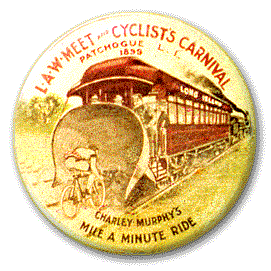 Hal B. Fullerton, a public relations official of the LIRR, had known Murphy through their mutual interest in regional bicycle organizations. An idea was jointly developed to have Murphy attempt to set a record with the help of a train. About three miles of planking was laid between the rails of the Central Branch eastward from Farmingdale to Maywood siding. The 29 year-old Murphy trained for two months with dumbbell weights, a jump rope, a stationary trainer, and light road work, all of which contributed considerable muscle to his 145 pound body.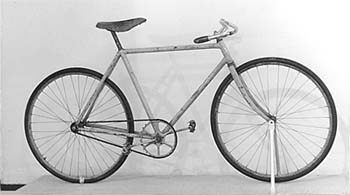 He and Sam Booth, engineer of locomotive No. 39, had a brief consultation before the one-car train left the old South Farmingdale Station about 5:10 pm that day. The sole passenger car, crowded with reporters, carried an improvised hood on the rear to shield Murphy from wind resistance. Booth accelerated quickly, but Murphy kept pace. The train briefly pulled ahead, causing Murphy to lose the advantage of the calm air in the hood, but he pedaled furiously to catch up. He covered the measured mile in 57.8 seconds, likely hitting 70 miles-per-hour at some points. He was hauled aboard the pace coach, with his legs still clutching the bicycle, just before the planked course ended. He had done it, and for the remaining 51 years of his life, he was Mile-a-Minute Murphy!
Farmingdale has many memorable moments of history in its long heritage, and Mile-a-Minute Murphy's ride is one of them.
© Copy graciously provided by William J. Johnston, Village Historian Town of Farmingdale. 1899 button is based on a photograph graciously provided by the Collection of John Hammond. Photo retouching of this image by Retsambew.com. Any implication that it was not may well be met with---. Photograph of Murphy's Bicycle currently on display at the Indian Motorcycle Museum in Massachusetts is provided courtesy of Nassau County Division of Museum Services. Copyrights belong to each respective owner. Thanks to Dave Morrison, LIRR. All rights reserved. Our sincerest thanks for permission, Nassau-Suffolk Bicycle Coalition.